Registration Close: April 28, 2023 12:00 am
You used to be
confident, full of energy and in control

…. But now you feel anything but…

"I Just DON'T FEEL GOOD In My Body Anymore"
Does this sound like you?
As each day passes, you feel more and more exhausted. You just can't seem to shake this constant fatigue you've been feeling, making it difficult to focus or get through your day with the level of productivity you used to enjoy.
Despite this, you push on, trying your best to ignore the nagging feeling that something is just not right.
It's not just the tiredness that's a problem. You're also feeling bloated and uncomfortable in your body- there's this overall puffiness that won't go away. Your clothes don't fit like they used to and your belly is noticeably bigger, leaving you feeling self-conscious and frustrated. Despite your best efforts to eat a healthy diet, you're still gaining weight and can't seem to shake the constant cravings for sugar and carbs.
Great sleep has become a distant memory, and even when you do manage to fall asleep, you're often plagued by restless nights and constant waking. This only exacerbates your already short fuse, leaving you feeling irritable and on edge. To make matters worse, your memory and focus have suffered..leaving you wondering if something is seriously wrong with your brain.
...are you just expected to live like this?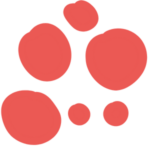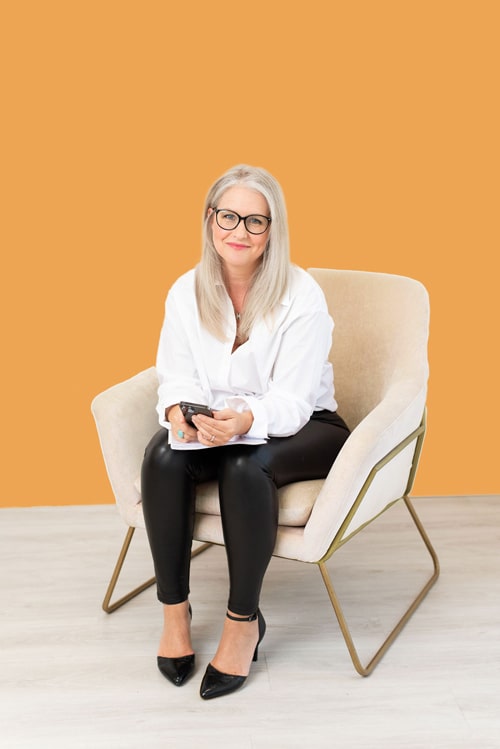 oh and don't get me started on...
The aches, pains and night sweats!
The aches and pains that you're experiencing are making you feel a lot older than you are, and no one seems to have a good explanation for why you have them. This is adding to your feelings of frustration and helplessness. If you're still having periods, they've become heavy and painful, making you dread the first day or two of each cycle.
And the hot flashes! What in the actual heck is going on?! You are wondering how long you will have to put up with feeling overheated and uncomfortable. 
In short, you're feeling the effects of these issues in every aspect of your life and it's starting to take a toll. You're feeling overwhelmed and unsure of what to do next, but one thing is clear: something needs to change.
Because you can't keep living like this!
You're measuring yourself against other seemingly perfect women, wondering why you can't seem to get it together like they have. Each time you catch a glimpse of yourself in the mirror, you don't recognize yourself.
The feeling of tight clothes against your skin serves as a constant reminder that your body is bigger than you want it to be, and the mere thought of clothes shopping fills you with anxiety and dread.
If you have to use a change room, you avoid looking at the mirror because you know you'll be forced to confront your ever changing body, and you often leave feeling worse about your body than when you arrived.
You're Sick of Feeling...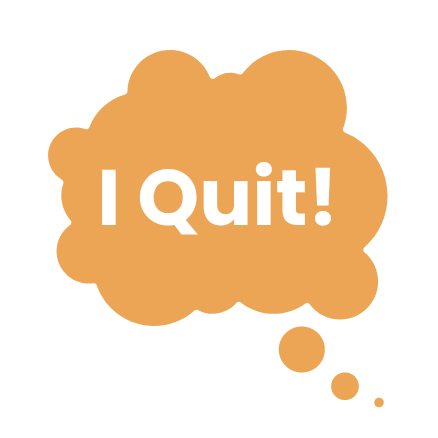 Defeated
You've tried different diets and supplements but that hasn't helped either. The constant effort and lack of results are taking a toll on your mental and emotional well-being, making it even more challenging to stay motivated and committed to improving your health. You are ready to give up.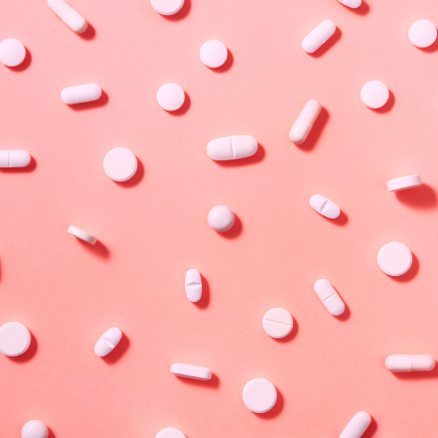 Dismissed
You've been to your doctor and have been told that this is part of getting older and that much of this is normal and will pass eventually OR you've been offered the birth control pill, an anti-depressant, or sleeping pills to help manage your symptoms (none of which you feel good about).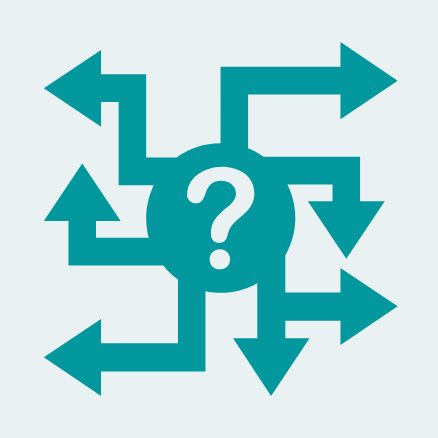 and Lost...
You feel lost and don't know where to start to regain control over your health and feel good in your body again.
You know that
there has to be something you can do to start feeling better

in your body but you don't know exactly what.
I know this is A LOT to be dealing with… let's just acknowledge that…it probably feels like you are on a runaway train that you'd love to get off immediately!
I've got some good news for you but I'll start with letting you know that you are absolutely not alone. I have been there and almost every one of my clients has too. I I know what it's like to feel out of control and like your body is betraying you and really, like you are a shadow of that woman you used to be.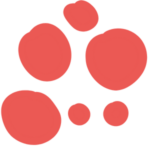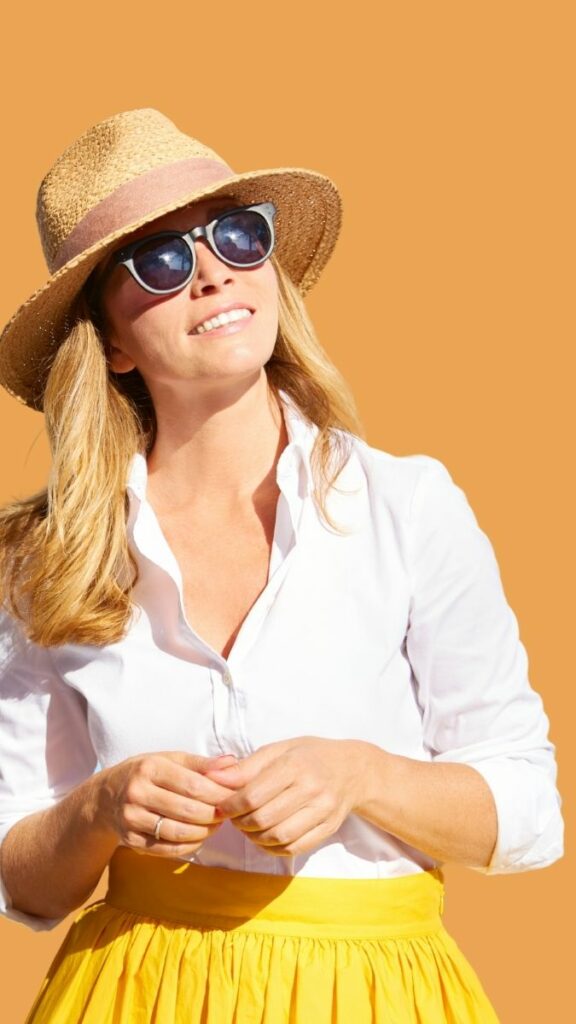 How would it feel if you woke up feeling rested and energized, looking forward to starting your day with the kind of energy you haven't felt in years? 
You look in the mirror, and notice that you're losing inches without feeling deprived. You actually feel like a goddess as you admire your vibrant reflection in the mirror.
You're finally feeling so good in your body that you're no longer obsessing over the scale, and you have total food freedom because you know how to eat in a balanced way and you know what the right foods are for your body.
You've been able to understand your body, your hormones, and why you've been feeling the way you have. No longer playing whack-a-mole with your symptoms, you've learned that everything in the body is connected and that, feeling great, boils down to a few, totally doable key principles and practices.
You're not fearing getting older anymore
Because you know how to be
well at any age
... and you're happy to be seen in family photos because damn,
you feel and look good.
To top it all off, your doctor has noticed a significant improvement in your blood markers and asks you what you've been doing differently.
You're even starting to enjoy clothes shopping again and are open to trying new things and putting yourself out there because your confidence is fully back. You feel at peace with your body and mind and are grateful for the journey that has brought you here.
This can be
your life
And I promise you that a life free from what's been holding you down (fatigue, cravings, bloating, weight gain, mood swings and crappy sleep) is well within reach. You are absolutely in the right place. But before I can show you how, there are a few things I want to clear up first...
When you understand how critical our hormones are for how we feel, you can see that ...
Your body
is not

working against you, even though it feels that way.
Your body is actually doing exactly what it's supposed to. Your symptoms are all messages, like SOS signals, from your wonderful body trying to tell you that it is out of balance and that it needs help.
Want to hear the best news ever?
If you want to feel the bliss of balanced hormones, I have the perfect solution for you!
What you need is a holistic, comprehensive action plan that gives you everything you need to identify and target the root cause of your issues so you can feel energized, confident and in control again.
For women who want to feel energized, in control and finally feel good in their body, the BodyWISE System for Hormone Balance is a program designed to balance key hormones so you can say good-bye to cravings, energy slumps, sleepless nights…and finally burn fat.. plus so much more.

Unlike other programs that just focus on restriction and rules, we teach you to understand how your body actually works and how to nourish yourself, so you can take control of your health and life, and achieve lasting results.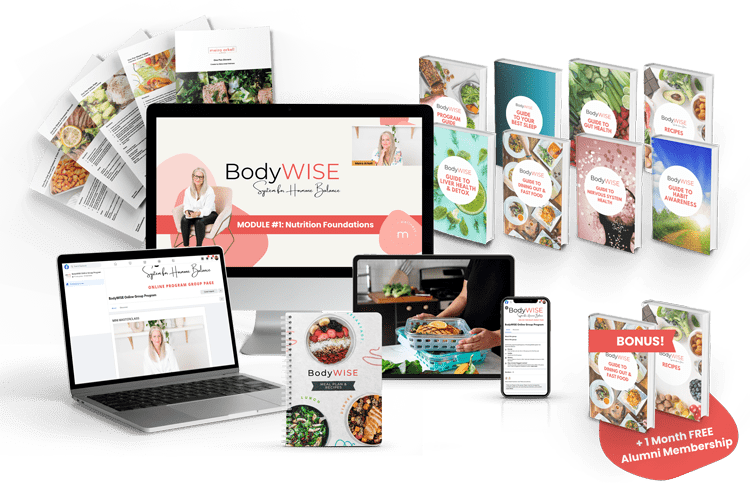 Learn
all of this

and more!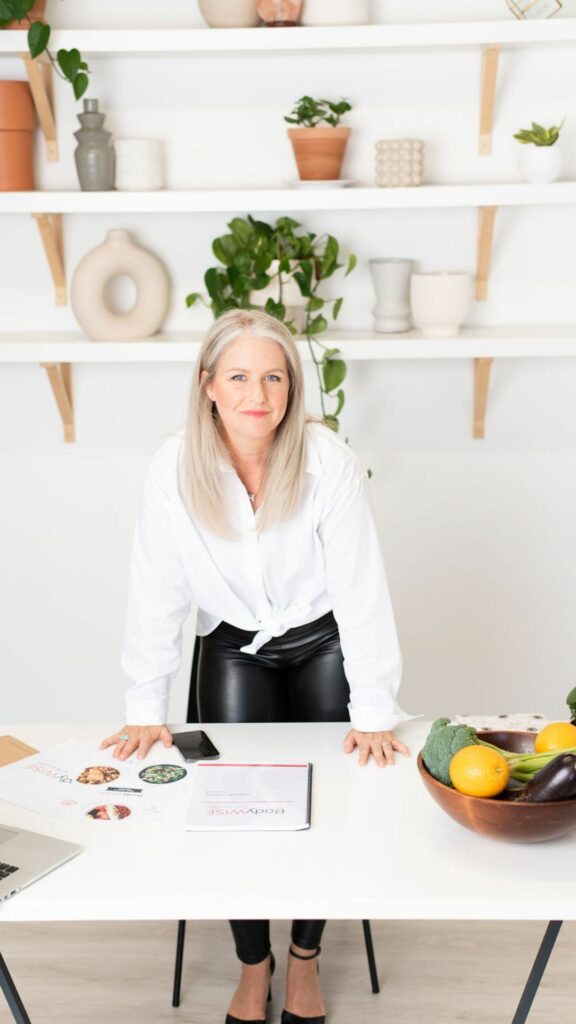 I'm no stranger to the symptoms of hormone imbalance so I totally understand where you are at right now. I was inspired to create this program from my own healing journey and also, with my late mother in mind, who passed away too early in mid-life.
I started experiencing the symptoms of hormone imbalance in my late 30s after going through an intensely stressful period in my life. I had no idea at the time how chronic stress could impact my hormone levels, inflammation in my body and cause the gamut of symptoms. With the goal of better understanding what was happening in my body and how to heal myself, I dove into formal studies in Holistic Nutrition and Culinary Nutrition.
Fast forward to my 40s … I've encountered challenges that most women do face as they approach mid-life – challenges like weight gain (despite a "healthy" diet), fatigue, issues with sleep, brain fog, anxiety and memory issues. Of course, given my passion for health and my knowledge, I dove deep into the literature on perimenopause and menopause not only to help myself, but to help my "mid-life" clients to find answers to issues their doctors simply couldn't help them with. I also studied with metabolism and hormone health experts and pursued a formal Certification in Women's Hormone Health to solidify my knowledge in this area.
The result of my own personal experience both with myself and my clients, and my formal education, is this program. This is a program that is a holistic comprehensive solution to improving hormone health that could completely change the trajectory of women's lives – as a way for women to be able to connect the dots between how they feel in their body with their nutrition and lifestyle so they are empowered and more in control of their own health and wellness.
A final word…I witnessed my own mother develop an illness that ultimately took her life at 60 years old and it is my absolute belief, after witnessing everything she went through, that it could have been avoided had she been able to take better care of herself through nutrition and stress reduction and if she had put herself and her needs first for once (if you are a mother, you probably know all too well what I'm talking about). This program is the one I wish she had had too.
The Dining Out and Fast Food Guide
This guide makes eating in restaurants and enjoying fast food, or eating on the go, a breeze. It details how to order easy, straightforward restaurant meals that will keep you balanced and meet your health goals while enjoying a night out. It also details healthy options based on types of restaurants - Greek, Italian, Indian, Mediterranean, Thai etc., as well as what to order at specific fast food chains.
Family Friendly BodyWISE Recipe Book
This Healthy (and family friendly) Recipe Book is packed full of delicious, healthy, and simple BodyWISE recipes. It's a compilation of some of my favourite BodyWISE-approved breakfasts, lunches, dinners and snacks that are all easy to make and don't require a lot of time in the kitchen.
1 Month Free Membership
To the BodyWISE Alumni Membership, because the research is clear that you need a solid 3 months to make diet and lifestyle changes that stick with you. The BodyWISE Alumni Program is a subscription based program that you can have access to when the 8 Week Program is over. This program gives participants ongoing support, accountability, community and access to monthly challenges, 2x monthly coaching calls, ongoing education, guest speakers and discounts on supplements.
Start Here!
Get ready for the program! Dive into the philosophy of the program, get your pantry ready, understand blood sugar regulation and learn all about optimal hydration.
Nutrition Foundations
Learn about metabolism and blood sugar management and their key role in hormone balance. Learn the foundational nutrition strategies, like what foods to eat, when to eat and how to fill your plate to set the stage for fat burning, effective metabolism and hormone balance.
Optimizing Sleep + Meal Prep 101
Learn all about how hormones and nutrition affect your sleep and how to use nutrition and lifestyle strategies to significantly improve your sleep. Learn simple meal prep strategies that meet your individual needs and set you up for success.
Mindset & Movement
Learn about key mindset shifts to see better results and the types of movement that are key for women over 40. Access 15 easy At Home Bodyweight Workouts, 15 Dumbbell Workouts and (3) 6-Week Training Programs (Strength Gain, Fat Loss, New to Exercise).
Calming the Nervous System
Learn about your nervous system and how stress affects your hormones and all your body systems. Understanding the connection between your health issues and your stress response and implementing strategies to calm your stress response can 10x your results.
Gut Health
Learn all about the gut microbiome and how it's connected to your hormones and overall health. Learn about specific foods that nourish your gut and have a positive impact on hormone balance.
Timed Eating & Intermittent Fasting
Cut through diet trends, learn all about different fasting strategies, and determine whether fasting is right for you.
Detoxification
Learn all about how your body detoxes, your master detox organ and how you can use nutrition to support your body. Understand the connection between your liver health and your hormones.
Making it a Lifestyle
Learn strategies for making long-term lifestyle changes. Understand the "diet trap", ongoing self-awareness and how to re-set.
Included with each module are e-guides and other handouts. These downloadable guides and handouts give you what you need to know about key elements that impact hormone balance, how the imbalances occur and simple strategies to correct them.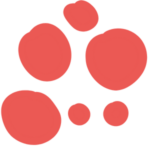 Meet your coach and the creator of the BodyWISE System for Hormone Balance…
Meira Arkell
I'm a Registered Holistic Nutritionist, Culinary Nutrition Expert and  Certified Women's Hormone Coach.
I have spent almost a decade learning about health, nutrition, using food as medicine, and women's hormone balance and applying my diverse knowledge into practical programs with women who have experienced the life-changing results of my approach!
I have additional formal training in gut health and I have a deep interest and unique understanding of the nervous system and the multifaceted ways that stress affects the body. This knowledge informs all of my coaching and programs.
In addition to my knowledge and competence in working with women's hormone imbalances, I have a special interest and deep knowledge of chronic pain conditions and novel approaches to healing from chronic pain.
Note: working with chronic pain is only available in my 1:1 coaching service.
Here's why
you'll love it
The BodyWISE System for Hormone Balance is a comprehensive, systematic approach to healing your metabolism and balancing your hormones. We don't just give you a list of foods, a meal plan and an exercise regimen and tell you to follow it to get results. That can only take you so far and generally is recipe for failure.

What makes BodyWISE different is we give you a step by step plan to balance hormones and heal your metabolism that is truly sustainable and our secret sauce includes our focus on these three things:
A Holistic Approach
Instead of a one dimensional program that focuses on foods to eat/ foods not to eat and willpower to stick with often restrictive regimens, BodyWISE recognizes that true health involves the intersection of physical, mental and spiritual health. BodyWISE is based in holism - we treat the body as a whole entity, recognizing that health is about more than just diet. Our program modules together are created to impact all these aspects of health.
Learn to Understand Your Body
Unlike other programs that focus on restriction and rules, we believe you need to actually understand how your body works, how your metabolism works and how your hormones factor in in order to truly make lasting positive changes to your nutrition and lifestyle. You need to know why you are doing what you are doing. This leads to self awareness and is often the missing piece to achieving consistency. Understand how your body works —-> self-awareness —-> consistency.
Our Mindset Values
Within the program we foster an atmosphere were we value progress over perfection, we practice loving kindness for ourselves and we value curiosity to inspire participants to try new things. This creates a less stressful atmosphere where participants are free to do the program in a way that feels good to them without worrying about "being bad" or "falling off the wagon". It's a journey… you are human.
LIFETIME ACCESS TO ALL MATERIALS ✦ LIFETIME ACCESS TO ALL MATERIALS ✦ LIFETIME ACCESS TO ALL MATERIALS ✦ LIFETIME ACCESS TO ALL MATERIALS ✦
Program Starts April 28 2023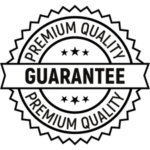 Guarantee
We want you to be 100% confident that this program is for you. To ease your mind, we offer a 21 day money back guarantee (21 days after program start date). You must show proof of program implementation and active participation. To request a refund, please email meira@meiraarkell.com.
Why risk being stuck in the same spot forever?
Listen, if you think you aren't ready to join BodyWISE now, there will likely be future cohorts for you to join when you are ready (but no guarantees on how long the program will run)… BUT, why would you want to wait and risk being in exactly the same spot, experiencing the same symptoms and possibly feeling even worse in your body then you do now, when you can simply start the process of reversing all of this NOW?
You know the saying…if nothing changes, nothing changes.
I don't want to see you in the same position in 6 months or a year when BodyWISE is the perfect solution to burning fat, gaining energy, lowering inflammation, getting your moods stable, having a clear mind, and finally sleeping all night. You can totally do this and I'll be there for you every step of the way. You have literally nothing to lose - you have access to our 21 day satisfaction guarantee and you don't have to be "perfect" or spend hours and hours of your time to do this. It's a no brainer. What are your waiting for?
Feel Good In Your Body Again